The 1st Independent Polish Parachute Brigade
(1 Samodzielna Brygada Spadochronowa)
It was a magical moment to discover the parachute towers actual location and furthermore to find evidence of it still exists!
The little church still exists, albeit without it's roof! I believe at one time, after WW2, it was used as a doocot, which for the non-scottish of you is a home for pigeons.
Below right is original archival footage of the tower in use. Using the angle along with the known length of the arm of the parachute tower, we were able to work backwards to find the base of the tower (covered over with moss and long grass).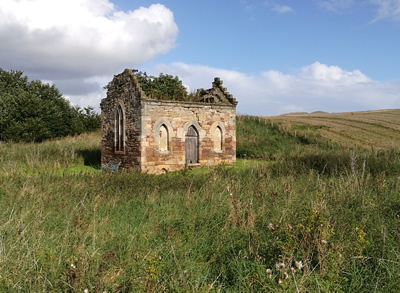 © www.swoopingeagle.com
© www.swoopingeagle.com
And here is possibly the only photo in existence of the parachute tower with the little church in the background.
© Fife Cultural Trust, Fife Council
Location Of The Parachute Tower
75 years of wild grass have grown over the concrete base, but the base is still very much there! It was a very deep thing as it had to keep a 100ft high tower in place in potential high winds.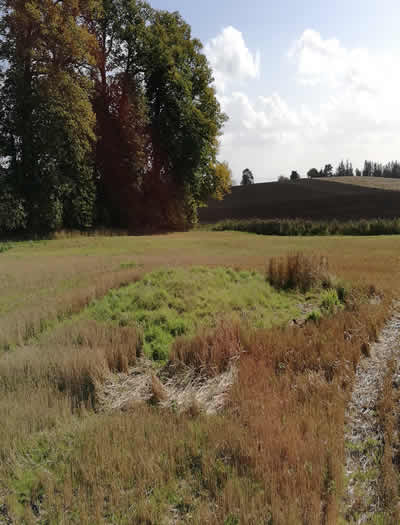 © www.swoopingeagle.com
If you have seen Edward Bawdens watercolour painting of the parachute tower then this view will be very familiar to you!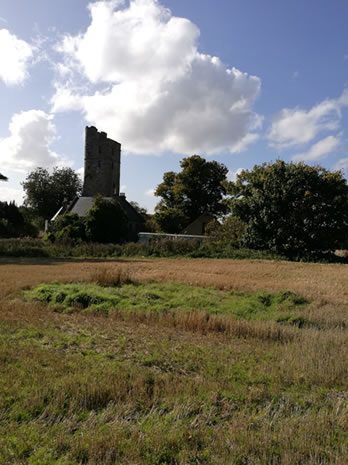 © www.swoopingeagle.com
The Parachute Tower Base Cleaned Up
In 2018 a JCB came in a removed years of overgrown grass and moss to reveal in all its glory the base of the parachute tower.
The square section in the  middle is where a drum with steel wire cable was installed. I believe this was the cable that controlled the descent of the parachutist.
© www.swoopingeagle.com
Parachute Tower 77 Years Later
Well here we are 77 years later, myself (Jason, Grandson) and my cousin (Ewa Gostik, Great Grand-Daughter) visiting the foundations of the parachute tower where our relative Wladyslaw Hoscik trained in the 1st Independent Polish Parachute Brigade.
It was my research of my grandfather that led me to Largo house, the parachute tower and also the discovery of my Cousin Ewa, who lives near Bialystok in Poland where my grandfather had been deported from in 1939.
Ewa came over from Poland to see Largo House and to understand better her great grandfathers journey across the world.
For me, this picture symbolises everything my grandfather went through and the bringing together of an "old" Polish family and a "new" UK family.
This moment represents 2 years of solid research as I traced my grandfathers history and also his descendants. To say it was slightly emotional is an understatement indeed.
If you are researching your Polish history, please believe that you too may share such moments as you discover facts and family, it is worth the effort and time invested!